Special Highlight
Staff Highlight: Deborah Worley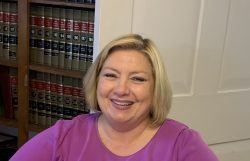 Deborah Worley grew up in Princeton, WV, and though she's lived many other places—including Europe for three years—she always felt called back. As she explains, "I love the mountains; I love the four seasons; and I love the people. Even though I hope to have a winter home in Florida, this will always be home."
Like many of our Legal Aid of WV (LAWV) staff, Deborah's profound love for West Virginia, and particularly Princeton, includes a dedication to serving and transforming her community. She donates to several nonprofits and volunteers within her church. When she goes to work each day as a legal assistant, she if often the first face clients see when coming into the Princeton office, and she takes that experience seriously, explaining:
"I have been aware of Legal Aid of WV for years and have always had a pretty clear view of the necessity of assistance for the low- and no-income. LAWV has helped me stay aware of the many needs there are right in own backyard—I don't know what people would do if they didn't have Legal Aid to assist. I see a lot of them come to the window feeling helpless and hopeless until they find out that we can, in fact, help them! We see so many people that have been mistreated, and they don't know where to turn for help; we offer that help to them. We actually do seek justice and change their lives. To see the difference in their expressions from when they first come in to when their case is completed is priceless."
Before working for LAWV, Deborah worked as a credit counselor for almost 15 years, where her relationship with legal aid developed as a community partner. She frequently referred her clients then to LAWV for help with financial services like bankruptcy but even for assistance they needed with divorce, custody, or escaping domestic violence—since she knew LAWV could help, she incorporated that information into her daily customer service. "In fact, when I started with Legal Aid, I was looking in the rolodex and found a card with my name and old work number on it!
Apart from the clients and the necessity of legal aid for clients, Deborah loves the Princeton office for its southern charm—and southern drawl, as she calls it. "Our clients, as well as employees, say 'y'all' more times a day than I can count." Her colleagues, she describes, are close like a family, with a connection that's deepened by many shared meals, passion for their work, and laughter.
The Princeton office is certainly unique, as are all LAWV offices, with their own dynamics. But the unifying ideal across our organization is a passion for serving those who need help, often at the most difficult times in their life with extremely complex problems. Deborah embodies that balance, and she provides thorough information and services to our clients with a smile and caring heart. Deborah's compassion shines through her own words when asked about her job: "It is important to me to work for an organization that serves community members because I feel everyone needs someone to be in their corner."