Client Story
Joanna's Story
Please be advised: this story includes accounts of abuse.

"I will never forget the woman on the other end of the phone when I called Legal Aid of WV," says Joanna, a client who called the LAWV intake hotline to apply for services but was initially turned down because she was not financially eligible. "She asked, 'Was there abuse involved?' I got really quiet, and she said, 'Honey, abuse isn't always physical.' And I started crying."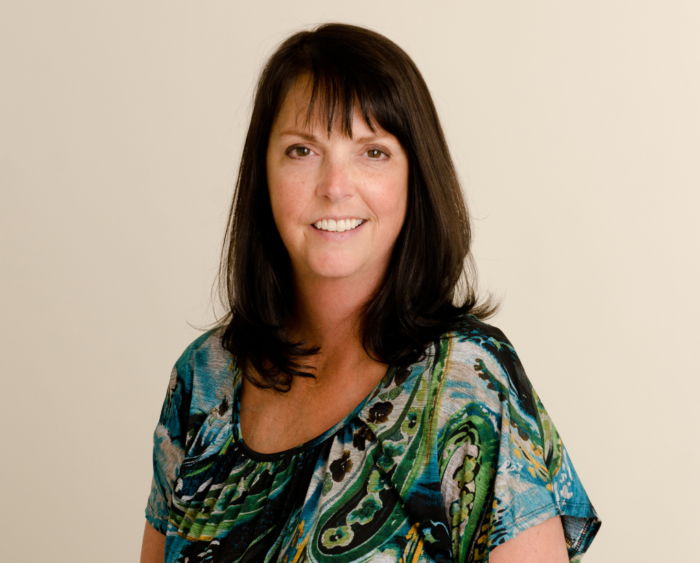 Joanna is one of many clients who get referrals to LAWV through a community partner, especially in cases with elements of abuse. She had been with her husband for more than 40 years, but at the end of 2021, her relationship was strained and turned violent.
Though she lived a modest life, Joanna was initially told she was not eligible for legal services because of her financial standing. However, because she was also experiencing abuse in her marriage, she was able to get services from the Eastern Panhandle Empowerment Center (EPEC), who also sent a referral form to LAWV to help her with her divorce.
"I think the combination of the Empowerment Center working directly with Legal Aid is such a resource that a lot of women don't know about," says Joanna. "The more I thought about the emotional and verbal abuse in my marriage, the more I learned from EPEC. There wasn't always evidence of physical abuse, and you tend to think, 'This isn't as bad as the person who's sent to the hospital.' EPEC helped me see the different types of abuse. It was really hard to hear. But I think, together, the Empowerment Center and Legal Aid serve such an amazing purpose in our community."
After being referred, Joanna worked with an attorney at LAWV, who initially met with her and just listened.
Joanna was struggling with many different types of grief at the time; her parents were both elderly, and her father had been diagnosed with cancer. Joanna wanted to be there for her parents and provide care, but her then-husband was struggling with isolation in retirement during the COVID-19 pandemic. She was also experiencing her own health struggles and recently started taking an expensive medication for her auto-immune disease.
"I was a mess. My attorney sat down with me and helped me navigate what to do next. I was trying to save my marriage," Joanna explains. She decided not to go through with divorce at the time and tried to repair her relationship. Her case with LAWV was closed, but her attorney told her to call back if anything changed. Since her case closure, Joanna had found a new apartment and both of her parents had passed away within a few weeks of each other. "I'd describe it as the worst years of my life—a lot of loss.
"By January of this year, I realized the marriage wasn't salvageable and reached back out."
Because her case had been closed, Joanna had to reach out to EPEC to get another referral, a process she says was "like a well-oiled machine." Ultimately, she and her attorney decided she would go to Court without in-person representation because her husband did not have an attorney, but together, they filled out all of Joanna's divorce paperwork. Her attorney answered questions, and they practiced statements and reviewed what could happen in Court.
"I felt very prepared going to Court, even without my attorney there in person," says Joanna. "She did recommend someone from the Empowerment Center come, and so I had an advocate with me at both of my hearings. I believe their presence spoke volumes. When I was first preparing my statements, I was going to be completely honest, which would have not put [my husband] in the best light. But when I thought about it, I have forgiven him, and having the Empowerment Center there, I didn't need to go into the details. Their presence made a statement."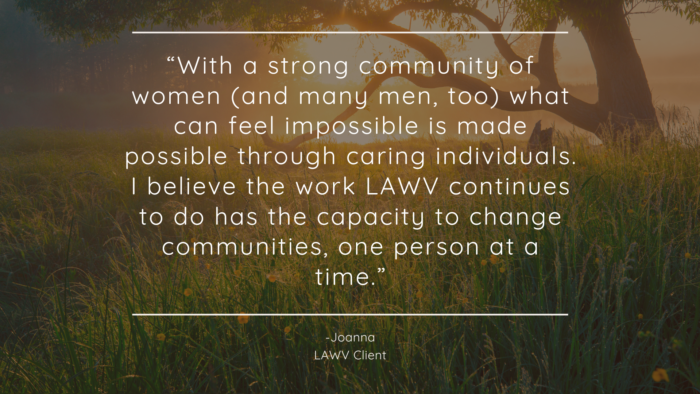 Joanna's attorney also recommended seeking spousal support; she was initially hesitant but decided to go ahead and seek support, which has provided her with more financial support after moving out of her home. Though her ex-husband now still lives in the home they shared, he has been ordered to provide Joanna with half of its value.
"I don't feel like I won," says Joanna. "I don't feel like anyone won in this situation. There's our two lives that were victims of circumstance. Yes, I am divorced, and my attorney helped me navigate what the fair split was, but I don't feel like I won, and I don't feel like he has the house so he won."
Now, Joanna is living in a small apartment, paying rent. She is also navigating getting health insurance coverage through the marketplace, with help from a local group. Fortunately, Joanna's family and friends have stepped up to support her throughout the process, and she feels supported by the availability of help from professional groups, too.
"Our community is equipped with a lot of resources that help people. I've never had to depend on services like Legal Aid. I've always been able to pay my way, but this was navigating uncharted waters. I wasn't certain what to do. I don't know if a lot of people even know about these resources. My attorney wasn't profiting. The Empowerment Center wasn't profiting. There was a different level of concern.
"None of us were meant to be self-sufficient. That's why we have community."