Special Highlight
Staff Highlight: Phillip Pham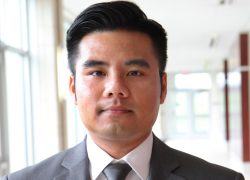 Phillip Pham is currently helping an education-based nonprofit navigate the labyrinth of paperwork required to start their business. His role as an attorney with our CEDLAW program is to focus on helping businesses thrive and focus on their mission, rather than on being throttled by the burden of legal documents and processes. Once they are operational, the nonprofit will teach young Virginians the principles of economic development and connection through agriculture. 
Phillip has firsthand experience with the daunting paperwork business owners face—and how they can get lost in translation. His family moved to the U.S. from Vietnam when he was a young boy, and his parents worked hard to build a new, prosperous life. After years of working to earn money for someone else, they saved enough to open a small family business of their own. With that came an exciting new opportunity and many documents and forms to fill out. "Having no time for a formal education, my parents learned English as they went, and they struggled with it on many occasions," says Phillip. "Growing up, I often would be one helping them in reading, translating, and interpreting official documents relating to their business and everything else. I realized that, by going to law school, I would be in a much better position to assist my family."
So law school it was, and Phillip's time at WVU's College of Law led to internships with the Office of General Counsel for Veterans Affairs and time as a student attorney at the Veterans Advocacy Clinic, both in Clarksburg. Getting to know the legal community during law school led Phillip to Legal Aid of West Virginia (LAWV).
"I applied to Legal Aid because of the encouragements I received from my professors and friends who had direct knowledge of the wonderful work being done here. Furthermore, the CEDLAW program—and its mission—was really exciting and exactly what I wanted to do." CEDLAW stands for community economic development law, and it is a grant-funded program at LAWV that offers assistance to clients who have business-related legal inquiries. "We help clients on a variety of legal issues pertaining to their employment, nonprofit, existing business, or future start-up," Phillip explains. 
CEDLAW itself is still newly developing in West Virginia; it's not an area of the law that traditionally gets a lot of focus. According to Phillip, this means that CEDLAW attorneys do everything differently—from finding clients to the way they work with them. "Because this is something that has never been done at Legal Aid, we not only had to set up specific goals at the beginning, but we also had to continue to evolve," he says. "It began with a lot of partnership building and outreach, and we are now starting to reap the benefits of those partnerships."
By working closely with community-based groups, clients find a strong network of resources and connections that might take years for businesses to acquire on their own. Phillip believes that approaching economic development through the law is a unique way we can affect the future of West Virginia. The nonprofit he's currently working with focuses on educating West Virginians on how agriculture can develop skills that can be translated into developing an entrepreneurial mindset. By reaching out to the younger generation and teaching them farming fundamentals, the group hopes to use passion and energy help keep retain young talent and interest. "This is exactly what the state needs," says Phillip. "This is also exactly why the CEDLAW program was established. Our goal is not only to assist in legal matters but to encourage great projects to better our communities."
When work doesn't keep Phillip busy, his family does. They wholeheartedly support his work and are proud because they know firsthand how impactful helping small businesses can be. "Every time I work with a small business or nonprofit, it reminds me of many of the same challenges my family experienced," he says. "I am glad to be able to assist my clients and give them my perspective on those challenges."