News
John Hedges Named Kaufman Award Winner
WEST VIRGINIA STATE BAR CONGRATULATES JOHN HEDGES, RECIPIENT OF THE 2022 KAUFMAN AWARD
" John is always eager to offer a legal hand to help; from simple wills to complex civil litigation, the knowledge and assistance he provides to pro bono clients is an invaluable asset."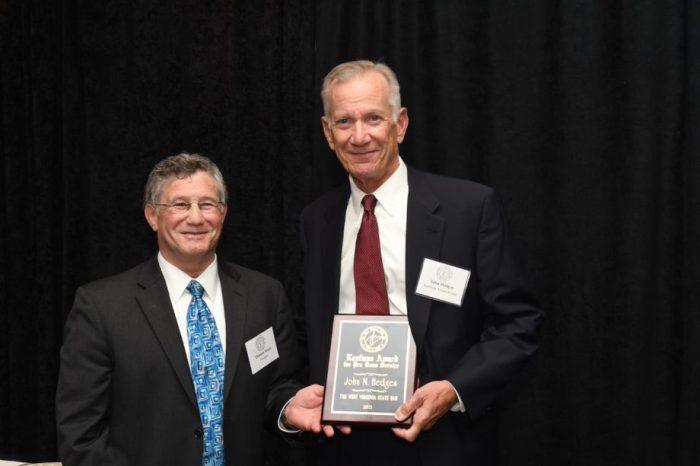 Upon graduation from the West Virginia University College of Law, John Hedges began his legal career in Charleston, West Virginia in 1984 as a law clerk for Justice Darrell V. McGraw, Jr. with the Supreme Court of Appeals of West Virginia. Upon completing his clerkship, John  opened his own law firm in Charleston, where he practiced from 1986-1994. In 1994, John moved his practice to Morgantown. In 2011, he was a founding member of the law firm of Hedges & Lyons where he practiced until he retired in 2018. During his career, John engaged in diverse civil ligation and appellate practice with a focus on employment law, government civil rights and tort liability, and insurance coverage litigation. He has also served as Counsel for the West Virginia Board of Law Examiners , co-authored several judicial bench books and manuals relating to various areas of the law, and assisted with the most recent revision of the West Virginia State Bar Constitution & Bylaws.  
Pro bono service and assisting low-income and vulnerable West Virginians has always been an important part of John's legal practice. While John practiced in Morgantown, he regularly volunteered to help victims of domestic violence seek protection orders. His firm, Hedges & Lyons, received the Pro Bono Law Firm Award in 2017. Since his retirement in 2018, John has become a regular volunteer for Legal Aid of West Virginia's Elkins Office.  In 2021, John donated over 400 hours of pro bono assistance to represent Legal Aid clients with property and housing issues and drafting wills. 
About the Kaufman Award                                        
The Kaufman Award is awarded in recognition of a West Virginia lawyer who has provided outstanding work pro bono publico and is presented to the individual attorney who has done the most pro bono work during the past year by providing free civil legal services for the low income citizens of the state. The Award is named after Paul J. Kaufman, who was a leading public interest lawyer prior to his untimely death. Mr. Kaufman's son, Kanawha County Circuit Court Judge Tod Kaufman, presents the award to the recipient.