Special Highlight
Board Highlight: Tina Faber
When Tina Faber first joined the Legal Aid of WV Board of Directors, she explains that she "fancied herself an activist," so it seemed like a good place to make a difference. Fast forward almost 20 years, and Tina still feels she makes a difference and calls the Legal Aid of WV Board "the very best board she's been on over the years."
During her undergraduate studies at West Virginia University, Tina joined a nonprofit that focused on rights for West Virginians on public assistance. In 2002, Legal Aid of WV (LAWV) was formed from three separate organizations and started looking to build up their Board of Directors (Board) by working with community partners. As a motivated young student, Tina was identified as a good candidate by her organization and was appointed to the LAWV Board. 
She jumped in head first. "I asked a lot of questions."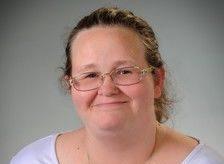 As her first Board experience, Tina says she was initially intimidated, but LAWV Board President at the time, Nate Bowles, made her feel exceptionally welcome, encouraging her to ask questions and join committees. 
In 2004, one of LAWV's major funders, the Legal Services Corporation, visited Charleston. Tina led the welcoming committee. "We really showed them a day in the life of a client," she says. "We worked with the City of Charleston to get trolleys for transportation; we visited a DHHR office and a local domestic violence shelter and ended the evening with dinner. Looking back, I believe they enjoyed their visit, and that is one of the highlights of my time on the Board."
Since joining, Tina has been a part of the Board's personnel, audit, and strategic planning committees. Professionally, she went on to get a master's degree in social work, which has led her to working for the State. Now, she serves as a project coordinator and adjunct professor at the West Virginia University School of Social Work where she commutes between her home in Kenna, WV and her office in Morgantown. Her background in social work and volunteerism has lent itself well to serving on the LAWV Board, but she's also gained valuable experience to funnel back into her career.
"I have to say, the knowledge that I gained learning how to be a Board member—how to read budgets, how to understand multiple funding streams—benefitted me throughout my career. After I graduated, I went to work for the state, and I was promoted into a position where I was managing grants. Because of LAWV, I had the knowledge of what it was like to be grant-funded, maybe not as an employee but as a Board member. Understanding all those dynamics really helped me advocate because when contracts were sitting on people's desks, I knew the impact that would have."
As a long-standing Board member, Tina now advocates for clients and new Board members. She has led efforts to create a sort of Board member curriculum to help members understand LAWV as an organization that allows them to better educate the community about its programs. And of course, she continues to excel at spreading the word about LAWV's programs.