Special Highlight
Staff Highlight: Teri Stone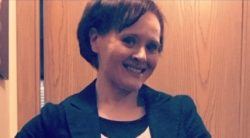 At Legal Aid of West Virginia (LAWV), our staff is made up of multiple unique positions that serve West Virginians. Yes, we have a large staff of compassionate, skilled attorneys, but we also have administrative and support staff and advocates that work in our communities in a variety of different roles. This month, we want to introduce you to Teri Stone, a facility advocate at Legal Aid of West Virginia; a boring day for Teri is an impossibility. 
Teri is technically considered an employee of the Huntington branch of LAWV, but her physical office is located on-site at Mildred Mitchell-Bateman Hospital (MMB). MMB is a hospital where patients have been committed through a mental hygiene petition. Teri's job—along with our other facility advocates—is a contract position with the state to ensure that their rights are not being violated, which advocates do through responding to and investigating patients' grievances. 
"While the daily requirements of our job and the policies we work under may evolve, our core mission remains the same," says Teri, who has now worked at MMB for six years. "We work to ensure our patients are free from abuse and neglect."
Teri began her career in advocacy and mentorship—before she realized it was happening—when she was a teenager in Wyoming County, WV. She volunteered with Energy Express, a summertime reading and education program that saw numerous children who faced poverty, abuse, and neglect at home. "We had children who were asked by their parents to hide their food stamps so they wouldn't trade it for beer and cigarettes, then the children got to 'find' them so they could buy food for a holiday celebration," she says. "Those experiences stuck with me."
Ultimately, she became an advocate because she thought it might suit her skills better than her previous work as a therapist. After completing her master's degree in psychology, she worked in the behavioral health field in numerous positions but saw what advocates around her were doing and thought it would be a good fit. When she saw an ad for the position at MMB through Legal Aid, she knew she had to apply. 
Our facility advocates have a unique work dynamic since their offices are in state-run hospitals. "We don't work for the state, but our offices are located in their hospitals, so we are constantly working around the very people who we may have to investigate for abuse and neglect," Teri explains. "Imagine that you had to go up against a tough opposing counsel in court who was antagonistic, then you had to walk by their office and/or pass them in the hall on a daily basis to do your job. Needless to say, it can get tense. We have to balance our relationships carefully."
Teri's ability to balance relationships comes pretty easily, since she has a knack for getting along with most everyone. It doesn't just help her with hospital employees, though; it's a crucial part of her main duties interacting with patients every day.
Grievances can often be alarming and serious in nature, but not all of a facility advocate's work includes intense investigations. "We receive grievances on all manner of issues," says Teri. "Once, a patient wrote, 'Last night at dinner, the hush puppies were so hard they could have broken my dentures.' After having a laugh to myself, I met with the patient, and we practiced how she could request replacement food (both at the hospital and while eating at a restaurant) in a respectful manner. Sometimes, we have to take advantage of teachable moments and realize the clients we work with may never had had anyone model appropriate behavior for them."

Balance has found its way into Teri's personal life as a theme, too—as it should for most of us. She used to be a part of a local roller derby team, but she retired (while she was still on top). Now, she focuses on fitness and enjoying time watching horror movies and spending time with her cats, who are all named after priests from The Exorcist. "I appreciate that Legal Aid allows and encourages a healthy balance between work and professional life. I think that is how you retain quality employees, and I hope to be 'retained' here for many more years!"