Special Highlight
Staff Highlight: Jason Heinrich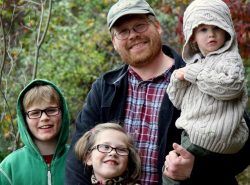 When Jason Heinrich, staff attorney in Legal Aid of WV's Parkersburg office, submits his mileage reports for travel, the odometer readings from his car are always the same: 299,999 miles. That's because his 2004 Toyota Corolla's odometer doesn't go any higher. Although it may be a complication for mileage reimbursement, in a way, Jason's car represents the bigger picture of his commitment to making a difference through his work.
Jason and his wife, Anna, both served as AmeriCorps volunteers, which Jason says prepared them for a lifetime of community service. At the end of their AmeriCorps assignments, they decided together that Jason would go to law school in the hopes that public service work would be the end result. During his studies in law school, Jason's doubts about his ability to make a difference as an attorney almost led him to explore an alternative career. Then he secured an internship with Legal Aid of West Virginia's Clarksburg office.
"They showed me what we can do to make an impact for our neighbors living in poverty," says Jason. "Legal Aid is my first and only experience in the legal field. After graduating law school in 2009, I went to work in the Parkersburg office, where I've been ever since."
Jason appreciates that LAWV is a mutually supportive workplace, but what motivates him most is the organization's importance in meeting community need. "Try to pay for something that costs $250-300 an hour when you're making $8-9 an hour. The math just doesn't work." Being able to provide invaluable services to West Virginians who would otherwise be forced to represent themselves is a privilege and a call of duty to many LAWV attorneys, and Jason feels he's no exception to the rule.
While he typically represents domestic violence victims—a priority for LAWV—he has also worked other family law issues, civil suits, debt collection, name changes, housing, abuse and neglect, and benefits cases. Jason is currently representing two immigrant women who came to U.S. to be married to older, abusive men. Without an attorney, these women would likely have no way out of their abusive relationships—they are vulnerable and isolated by language and culture. Similar situations can happen anywhere, including West Virginia, so Jason stresses the importance of learning and improvement, starting with himself. "The most important way my job has evolved is that I've gotten better at it through time and experience. My representation benefits a client much more today than it did several years ago."
When he's not working, he volunteers with the local Boy Scout troop and the Christian Education Committee at his home church. He also worked to support a school reconfiguration for his local school district, which involves rebuilding and relocating schools in the area to reduce socioeconomic segregation.
If you know Jason, you know his life of service comes from a genuine, humble place in his heart. Working with underserved populations—both in his career and his free time—has shown Jason that generosity often lives independently from wealth. "It's about dignity and mutuality," he says. "We are most helpful, I think, when we're in a reciprocal relationship with our neighbors." Jason and his wife volunteered for years for a free community meal. "There was one well-off volunteer who came often and donated his money and time but wouldn't eat with everyone else. He meant well. He thought if he ate, he would be taking food from someone who needed it, but he should have given us the dignity of sharing our common humanity at the table."
It can't be possible to highlight Jason's accomplishments without crediting his wife, Anna. They are partners in dedication to serving their families and neighbors. "I benefit immeasurably from the fact that my wife, Anna, is both very smart and very kind. She is also patient, and I'm grateful for the fact that she lets me work for less money without complaint."