News
Monongalia County Bar Awarded Distinguished Pro Bono Service Award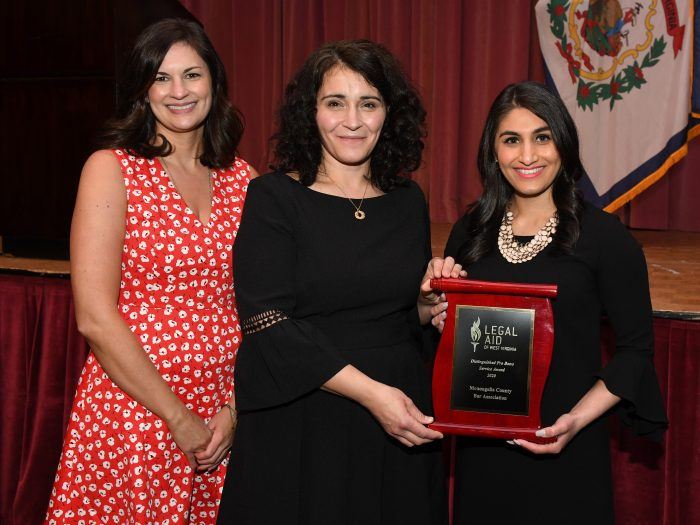 Legal Aid of WV and the West Virginia State Bar Congratulate the Monongalia County Bar Association as Recipient of the 2021 Distinguished Pro Bono Award
Established in 1897, the Monongalia County Bar Association (MCBA) has grown to become an active and congenial fraternity of practicing attorneys and judges in the county. The MCBA offers a monthly CLE, awards an annual scholarship to local high school students, and supports other organizations through fundraising and volunteerism.
Since the pandemic, members have raised funds to provide a holiday party for nursing home residents, to donate lunch to essential workers at local hospitals, and to donate to the local domestic violence shelter for its clients and their families. The current leadership is amplifying community service efforts through its 2021 MCBA Gives Back Initiative, organizing regular volunteer opportunities for members and continuing its fundraising for local programs.Over the years, its members have also regularly assisted low-income and other vulnerable individuals and families through Legal Aid of West Virginia and WVU College of Law. In 2020, MCBA attorneys provided over 384 hours of pro bono service in 81 Legal Aid cases. Many of these hours were provided through the Domestic Violence Assistance Project, which provides legal assistance to petitioners at final protective order hearings.
Legal Aid of West Virginia's Distinguished Pro Bono Service Award recognizes a lawyer whose pro bono efforts in a given year have gone "above and beyond" the call of duty and are deserving of special recognition.