Client Story
Linda's Kinship Care Story
Linda takes care of her two grandsons, Micah and Noah, in a household where family is a big priority. Linda's daughter and Micah and Noah's mother has substance use disorder and, although she loves her sons, could not provide a stable home life for them, so Linda stepped in to provide that, but it has not been an easy road.

"I decided not to take the steps to adopt them yet," says Linda. "I want my daughter to get better and be in their lives, be their mother."
Micah, 11, and Noah, 6, have different fathers, but they both struggle with behavioral issues, specifically bursts of anger that they have not learned to process or control. Linda sometimes feels lost taking care of them, but she does not want to create any more instability for the boys who have structure and consistency in her house.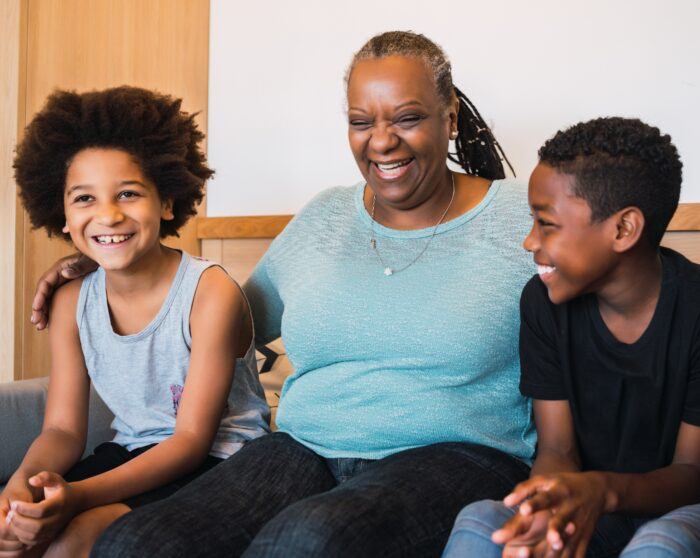 In 2022, Micah's father came back into their lives and told Linda he was going to get custody of his son. At first, Linda did not take him seriously because he had not shown much interest in visiting or taking care of Micah in the time she had been taking care of him. In fact, she recalls he sometimes would drive past her house but not stop. Then she got word that he had filed to terminate her guardianship of Micah, and she had to go to a hearing, which she did by herself—without an attorney.
The hearing did not go as smoothly as she anticipated, and after sharing with her family about what happened, Linda's nephew told her, "You need to get an attorney, Aunt Linda. Now."
Linda started looking for an attorney but got discouraged quickly at the cost, but not long after, Noah came home from school with a Lawyer in the School flyer in his backpack.
"I was wary," says Linda. "I thought, 'This can't be real.' But I was in need, so I still reached out to the program, and that's when I met my attorney, Amber. She was real with me, and she gave me confidence."
Together, Linda and Amber prepared and went to a second hearing to determine if her guardianship would be terminated. The result was complicated for Linda; her guardianship was not terminated, but Micah's dad had six months of weekly visitation then could file another petition.
"He decided not to proceed," Linda explains. "I haven't heard from his dad. It's been hard for him."
Since her guardianship case was closed, Amber has also helped Linda apply for assistance through the Mountaineer Rental Assistance Program, which allowed her a safety net after the toll the past few years' expenses—and COVID pandemic—have taken on Linda.
"I truly felt like Amber was my sister," says Linda. "When I got the letter saying our client-attorney relationship was ending, I felt bad. I really did. But I can still talk to her, and she explained that was just part of the process."
Linda still has custody of both Micah and Noah and continues to work with them on behavioral health struggles, and she spreads the news of Legal Aid of WV and the Lawyer in the School program far and wide, whenever she can.
"Legal Aid and Lawyer in the School staff are so compassionate. They listen. There are things behind the scenes that no one knows about that happened during my case—and Amber came up with things I would have never known about to help me."