Client Story
Celebrating 20 Years – Bobbie's Story
Three years ago, Bobbie Dee reached out to Danielle, who she had seen on social media and the news as an advocate for transgender West Virginians, because Bobbie Dee was ready to start her own transition.
"My father had just passed away," says Bobbie Dee. "I knew who I was, but I waited to transition because I knew it would hurt him."
Danielle had a similar story of her transition. After 23 years of service, she decided to leave the military so she could finally transition. Danielle was one of the first transgender women who came out in her area, and as a result, she was interviewed quite a bit and became a trailblazer of sorts. She had to do most of her own research finding a doctor, finding community resources and supports; as a result, she now makes it a priority to help other transgender West Virginians find what they need to complete their transition.
"All the coverage of my transition was more than I was expecting to happen," says Danielle. "But after that, it turns out there were a lot more trans individuals in West Virginia, and they didn't know how to come out and transition."
With Bobbie Dee, Danielle helped her find a primary care physician and introduced her to Danielle's fiancée, who is the founder and president of Beckley Pride. Through their mentorship and through many instances where things simply worked out, Bobbie Dee was able to get her surgeries and change the gender marker on her driver's license.
"I feel so blessed by all of this," says Bobbie Dee. "I was able to do my transition on my own in less than three years, but when I went to the courthouse to get the name-change packet, I couldn't really understand it. The folks at the courthouse and some lawyers I had talked to told me about Legal Aid of WV. I didn't even know it existed."
Bobbie Dee applied for help from Legal Aid and was approved. She worked with attorney Marie Bechtel on her name change packet. Previously, Bobbie Dee had owned her own business, and it closed, which caused some financial trouble for her, but Marie was able to get the costs of the name change waived, which would have been close to $750.
"It was a wonderful experience with Marie," says Bobbie Dee. "I cherish her because she gave me my name. Thanks to Legal Aid, my name is here, and I just thank God for it."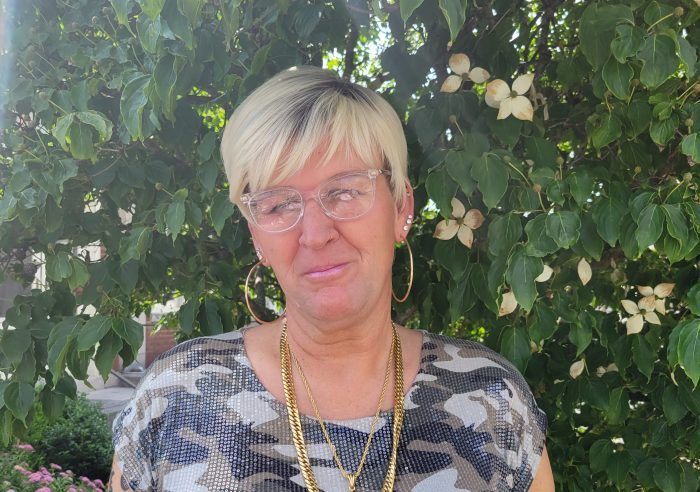 According to Danielle, cost and safety barriers prevent transgender individuals from completing their transition regularly in West Virginia.
"You'll find that most trans individuals are financially struggling due to an unwillingness to hire trans people," she says. "Bobbie Dee has been lucky to get a good job at TJ Maxx, and they are very supportive of trans individuals. The ability to transition without the fear of losing your job and losing other things is so important."
Bobbie Dee echoes Danielle's praises for her job and the excellent insurance they provide. "After my surgery, they worked with me on my recovery time off to make sure I kept my job. It was not easy, but I did it, and I kept working."
Beyond cost barriers, many transgender West Virginians struggle with support systems. Bobbie Dee reached out to Danielle for guidance about transitioning as a process but also needed folks to support her.
Her wife of 22 years and their two children have been in and out of her life since her transition. Like many in the LGBTQ+ community, Bobbie Dee has a found family, and finding support has been crucial to her happiness and progress.
Groups like Legal Aid of WV, her employer, Beckley Pride, and her friends have given her a new lease on life. Though her struggles are not fully behind her, Bobbie Dee has met each obstacle she's met with the help of her supports.
"Justice for all is not here for my community," says Bobbie Dee. "Things are slowly coming around. Thanks to Pride and people like Danielle, things are changing. And Legal Aid—when I am here, I feel like a human. I tell everyone if you need help to call; Legal Aid is where you need to go."