Client Story
Asher's Story – FAST Program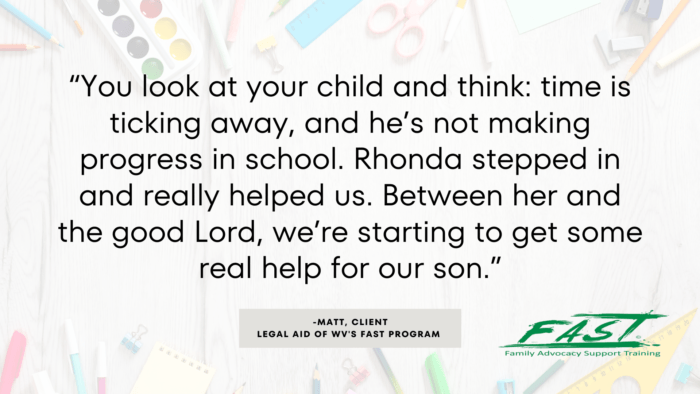 In 2022, Matt and Amber had an unexpected conversation that changed their lives. They got a Facebook message from a community member—they knew him but were not close friends—who simply said, "It's my understanding you have a son with autism. I'd like to help."
As a result of that Facebook message, Matt and Amber met Rhonda Hayes, a FAST advocate for Legal Aid of West Virginia. Rhonda and other FAST advocates work with school-aged children who have mental and behavioral health diagnoses to ensure their special education needs are met in school. They can also help with some services outside the school setting.
"I had never heard of the FAST program before then," says Matt. "We spoke with Rhonda at length, and she said she could help us. Well, it turns out she could help up tremendously."
Matt and Amber's son, Asher, was diagnosed with autism just before he turned five. He was considered nonverbal all throughout childhood and up to age eight when Rhonda came into the picture. He struggled in school settings; sitting still and focusing were nearly impossible for Asher to do for more than a few minutes.
He stims many times a day; stimming is a repeated behavior like a movement or vocalization that is believed to help people with autism express or calm themselves. Asher's stimming includes running back and forth and jumping, and his learning was suffering.
"Before we met Rhonda, Asher had an IEP, but it wasn't meeting his needs," says Matt. An IEP, or Individualized Education Plan, is a document created to ensure schools have an outline of special education needs for a student. "We also knew there were autism services in West Virginia, but on our own, we hit a dead end. We couldn't figure out where to go to get services for Asher."
Rhonda's first step was improving Asher's IEP. She already had an established relationship with the special education teachers at his school, so she let them know she was representing Asher and got to work.
As part of this process, Rhonda worked with the school on addressing forms of assistance that would benefit Asher. She secured an aide and set up Applied Behavior Analysis (ABA) therapy twice a week for Asher.
ABA therapy focuses on behaviors and how they affect real-life situations, like a school setting. According to his teachers and parents, therapy made a difference in Asher's behavior from day one. Now, after nine months of therapy, his stimming went from minutes long to seconds, and he can say several 4-5 word phrases.
The permanent aide who works with Asher has also transformed his school days.
"Asher has had aides since kindergarten, but it was not consistent," Matt explains. "Rhonda helped get a permanent aide hired for the school system, and she is assigned to work with Asher. She essentially goes everywhere with Asher to make sure his needs are met, he is safe, and he is focused on school."
Beyond education, Asher's home life has improved. He has tools that help him communicate his needs more, and his relationship with his parents and his 6-year-old little sister are benefiting.
"I feel like he is happier now because he can communicate better, so his interactions with people are better," says Matt. "Everyone involved with Asher has been nothing but fantastic. From his teachers to his aide to his therapists. When Rhonda came into the picture, things really started to happen."
Rhonda herself is amazed by Asher's progress. She speaks with Matt and Amber periodically about how therapy and school are going, and if updates to his services are needed, she will be able to step in and make the changes.
"Working with Asher, Matt, and Amber has been amazing," she says. "When I met Asher, he was a cute kid with curly hair, but he had a lot of behaviors. Seeing videos of him in therapy and how far he's come brings tears to my eyes."
For more information about our FAST Program, visit our website or their Facebook page.