News
Thomas E. McIntire Receives 2023 Kaufman Award
"Tom has dedicated his entire career to helping those most in need, and I've seen first-hand the positive results he has gotten for his clients. Because of him, so many people have been able to rebuild their lives and get a fresh start."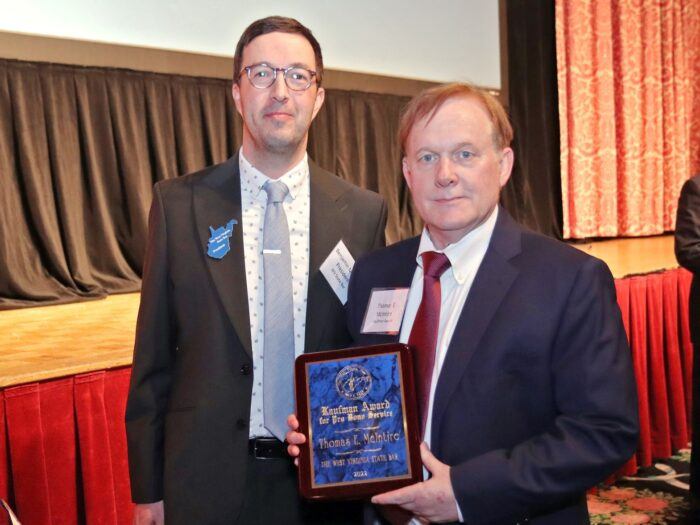 Tom McIntire received his undergraduate degree from Fairmont State College and his master's degree from West Virginia University. He later earned his juris doctor in 1985 from Thomas M. Cooley Law School and is admitted to practice law in West Virginia and Pennsylvania. From Mannington, West Virginia, he moved to Wheeling following law school and has served the area for the entirety of his career. From 1986-1989, Tom worked for Gompers, Buch, McCarthy, & McClure and then went on to open his own office, Thomas E. McIntire & Associates, L.C. During his career, he has also served as municipal court judge in Wheeling and West Liberty.
Tom's practice has focused on helping clients protect their assets and attain financial stability. In 2019, he wrote and published When Bad Things Happen to Good People: How to Determine if You Need to File for Bankruptcy Protection, a thorough instructional manual that explains the bankruptcy process to the general public, that he provides at no cost. He also wrote The Road to a Successful Chapter 13 Bankruptcy He was also a contributing author to Bob Fitzsimmons's Medical Legal Handbook, a textbook explaining the co-disciplines for practitioners. His firm's website is regularly updated with articles aimed at helping laypeople make wise financial decisions.
Tom is a member of several county bar associations, actively participating in those and various other philanthropical and professional organizations. He has been the president of the Ohio County Bar Association and the president of the board of directors for Big Brothers Big Sisters.
Tom has a long-standing commitment to pro bono service and has assisted vulnerable clients through Legal Aid of WV for over thirty years. Since that time, he has assisted more than 200 clients with divorce, custody, adoption, landlord-tenant, and debt matters. He now represents an average of ten Legal Aid clients each year, helping them with their consumer cases from start to finish, and he has also provided invaluable training to staff on consumer protection law. In addition to serving clients of his own full-time practice, Tom donated over 80 hours of pro bono assistance in 2022 through Legal Aid.
————————————-
The Kaufman Award is awarded in recognition of a West Virginia lawyer who has provided outstanding work pro bono publico and is presented to the individual attorney who has done the most pro bono work during the past year by providing free civil legal services for the low-income citizens of the state. The Award is named after Paul J. Kaufman, who was a leading public interest lawyer prior to his untimely death. Mr. Kaufman's son, Kanawha County Circuit Court Judge Tod Kaufman, presents the award to the recipient.