Special Highlight
Board Highlight: Rita Rectenwald
Rita Rectenwald's first experience with Legal Aid of West Virginia (LAWV) was as a client when she applied for help with a contentious divorce. Several years later, she found herself in a similar situation—"I really know how to pick them," she says—and applied for help again. This time, David Yaussy, a LAWV Board Member, took her case pro bono.
"Working with David was so nice; he was really there for me," says Rita. "I had been through this before, so I knew what was going to be asked and helped make sure we were ready. David enjoyed working with me because what I didn't know, I would look up and prepare. He thought I would be good for the Legal Aid Board."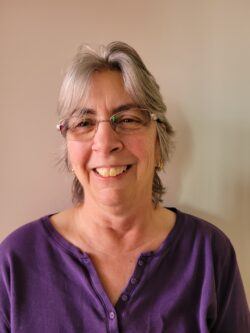 LAWV's Board of Directors has elected members, who are attorneys, and some appointed members, who are mostly client-eligible constituent members. David recommended Rita for one of the appointed positions, so she met with LAWV's Executive Director Adrienne Worthy in 2018 to find out if it was a good fit.
"I just had surgery on my shoulder after I tore my rotator cuff," Rita explains, an injury that ended her career and freed up more time to serve on the Board. "I guess this is where I needed to be. I think your life is laid out, and I was put here for a reason."
Since her appointment on the Board, Rita has been active in attending every meeting while generously offering her thoughts, opinions, and baked goods to LAWV's staff and Board. She also takes her duties sharing the word about LAWV seriously.
During the pandemic, Rita and other Board members took Mountain Rental Assistance Program materials to local events and distributed them to community members who might benefit from the program. She also frequently refers people with legal issues to apply for help.
"I guess I'm a busy body, or maybe I should say a people person. I like talking and listening to people and getting to know what they need—I learned to do that during my career. Everything I've experienced has helped me understand and do better for the folks at Legal Aid. I have learned how to talk to people and accept them."
Rita employs her talents beyond being a Board member by staying active in her neighborhood. She also stays active by taking her 22-pound dachshund, Nugget, on adventures in the Dunbar area.
With an appointment vacancy currently open on the LAWV Board, Rita says she would encourage anyone who is interested to reach out because the experience is worth it.
"Being around Legal Aid staff—the kindness that radiates from them is extraordinary," says Rita. "I love being on the Legal Aid Board to get out of the house, stay active, and to get to help people!"